"SPECIAL EDITION: POLO SHIRT INDO-STARTREK community"
Bagi yang berminat pesan harap secepatnya kirim email ke: bowo_trahutomo@yahoo.com
Untuk memesan ukuran baju. First come first get. Limited hanya 50 pieces.
Waktu Pengerjaan: dua minggu.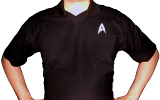 Tampak Depan & Belakang (Click to enlarge)


Logo pada dada kiri & Lengan (Click to enlarge)
KETERANGAN:
Bahan: Lacoste cotton
Warna: Hitam polos kualitas terbaik.
logo STAR TREK di bagian Dada sebelah kiri bordiran benang perak
Bentuk Leher "V" dengan Kerah (mengacu ke Vulcan salute dan The Original Series)
Pada punggung, terdapat bordiran tulisan semboyan Star Trek dan "www.indo-startrek.org"
Ukuran S:
Panjang Pundak (dari garis Leher ke batas pundak Lengan): 9 cm
Lengan: 17 cm
Ukuran M:
Pundak: 11 cm
Lengan: 19 cm
Ukuran L:
Pundak: 13 cm
Lengan: 21 cm
Ukuran XL:
Pundak: 15 cm
Panjang Lengan: 23 cm
Panjang Kaos (dari pundak sampe pinggang): 66 cm
Ukuran XXL:
Pundak: 17 cm
Panjang Lengan: 25 cm
Panjang Kaos: 70 cm
HARGA:
Ukuran S - XL: Rp.95.000,-
Ukuran XXL: Rp.100.000,-
Ukuran XXXL: Rp.110.000,-
*Harga tidak termasuk ongkos kirim